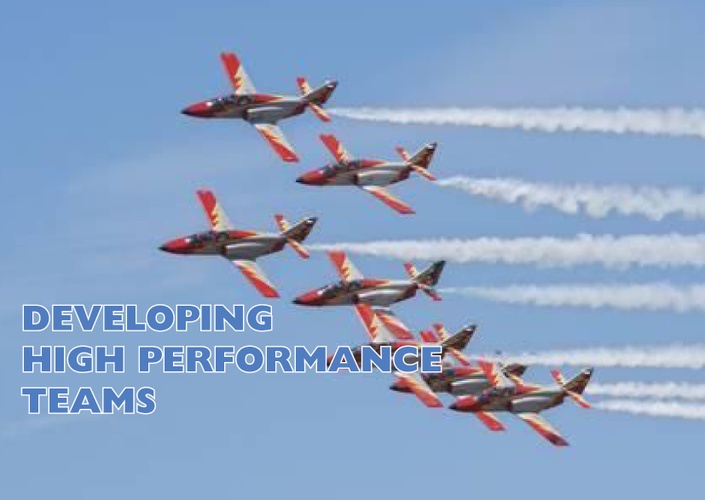 Developing and Enhancing Team Synergy
How to build collaborative, cohesive and Focused Teams
Learning Outcomes
Displaying a results-driven team behaviour
Dealing with conflict situations effectively
Effective t-e-a-m-w-o-r-k – being able to motivate a t-e-a-m and create a sense of belonging within the team
Taking responsibility and accountability for personal development
Learning from mistakes and being able to handle criticism constructively
Solving current problems within a team / group related to attitudes / misunderstandings
Creating a positive and engaged working environment where teams and individuals flourish, grow and succeed
Bringing teams together through sincere trust and respect
Lead teams in continuous improvement of their processes
Develop the mindset it takes to become a high performer
Course Curriculum
Short overview
Available in days
days after you enroll
Module 1: The High performance Team
Available in days
days after you enroll
Module 2: Team development stages
Available in days
days after you enroll
Frequently Asked Questions
When does the coaching start and finish?
The coaching starts now, and you have six months to complete the coaching.
What can I expect from the coaching?
The coaching sessions will inspire you and prepare you to grow exponentially in your personal development. The experience will be intentionally engineered to take place virtually so that you can instantly apply the principles and practices in the context of your everyday personal or work life. Your experience will be: 1. COLLABORATIVE. You will form a deep, lasting coaching relationship forged around learning together. 2. PRACTICAL: We will guide you to contextualize everything to your environment, focusing on the "how-to." 3. LIFE CHANGING. You will use this experience to grow and will be inspired to lead others also- committing to pass on what you have learned to others 4. FOCUSED. We focus on enabling you to commit to specific goals cantered om demonstrating and presenting the newly gained knowledge 5. COMPREHENSIVE. Our practices provide rich and relevant content to deepen your skills and competencies on how to apply the newly gained knowledge practically 6. VIRTUAL. The platform and approach are purposefully designed to be experienced from the framework of your own home or the work environment so that the impact and application can be immediate
Team building versus Team wasting: Your thoughts
As a seasoned academic and business consultant, I have attended numerous team-building sessions. In my qualitative research on team effectiveness and storytelling, I have found that this exercise is often a waste of time. Often teams possess pearls of wisdom but are not focused or engaged in using them to make a significant difference back in the workplace. The purpose of the "heartbeat" exercise REAL-TIME, FINE-TUNING TEAM conversations is to understand the real concerns of key team members, obtain insight into and clarity on the organisational situation, as well as the team effectiveness of the management team. The "health" of a senior team is critical for the future success of any organisation. Contact me so I can give you an overview of this remarkable program and the seven crucial conversations that should take place in your team.
Do you use various assessments also?
1 Building Motivational DNA - Motivated People Advance Further and Faster in Their Careers 2. C5 - Character in Your Team- Assess the Following: Character + Competency + Chemistry + Credibility + Conduct = Consistency 3. Caring Vs Critical Spirit- Appreciation, Positive Comments, Communicating Well, Encouragement 4. Changing Engagement Gaps- Disappointment, Discouragement, Distance, Disconnect, Fully Disengaged 5. Eliminating Trust Gaps – A Comprehensive Understanding of The Issues Related to Organisational Trust.